PWR-ACDC-5V2A
100-240V Universal 5V Power Adapter with 2.1mm Barrel Jack with a 9ft cord
Canada Day Holiday Notice
Matrix Orbital will be closed from July 1st to July 5th, 2020 for Canada Day celebrations.
No shipping or processing of orders will take place during this time.
Normal business will resume on Monday July 6th, 2020.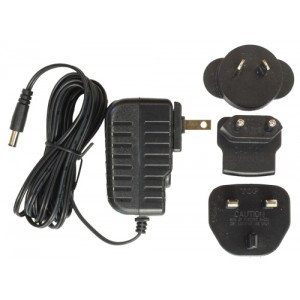 AC Universal Power Adapter for the GTT and HTT series. Includes the most popular plugs as well as 100-240V input and a long 9ft / 2.7m power cable.
Suitable for: GTT57*, GTT70*, GTT101*, HTT or any product with a 2.1mm Center Positive barrel jack
Input Voltage: 100-240V AC
Output Voltage: 5V DC @ 2A
Length: 9ft / 2.7m
Barrel Jack: 2.1mm Center Positive
AC Plugs Included: North American (NEMA), Europlug (Type C), UK (Type G), Australia/China/New Zealand/Argentina (Type I)
* The GTT has to be a V5 model