XBU (X-Board U-Series)
XBU (X-Board U-Series)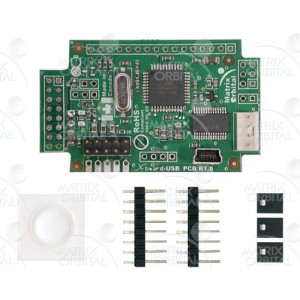 The X-Board U-Series is Matrix Orbital's compact economy USB interface module
This daughter-board is designed to offer easy to use USB communication to most LCDs and VFDs. You will have the ability to add this interface module to an LCD or VFD for instant USB communication. This product is great if you would like USB communication on one of our parallel displays.
For compatibility of other LCDs/VFDs, please email: support@matrixorbital.ca
Please visit our Economy MOU Series for more USB display ideas.
Includes:
Rubber bumper to be used as a protective spacer between display and X-board
1x8 display connectors (x2)
Jumpers used for programming (x3)
Module
Family/Series
Economy Display
Module Width (mm)
60
Module Height (mm)
36
HMI
Touchscreen
None
Keys
None
Haptic Feedback
None
Audio Feedback
None
GPO's
3
Advanced GPO's
None
Integrated LED's
None
Electrical
Interface
USB
Command Protocol
Matrix Orbital
Controller
Atmega8535
Negative Voltage
None
Backlight Driver
Integrated
Minimum Voltage (Vdc)
5
Typical Voltage (Vdc)
5
Maximum Voltage (Vdc)
5
Header
Standard
Environmental
Min. Operating Temp. (°C)
-20
Max. Operating Temp. (°C)
70
Min. Storage Temp. (°C)
-20
Max. Storage Temp. (°C)
70