MOU-AO202C
USB OLED 20x2 HMI 1U with 5V Power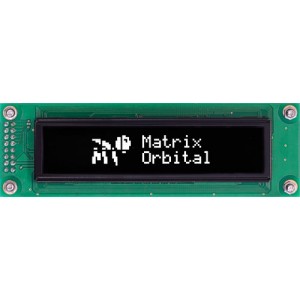 Notice: The Green and Blue color options have been discontinued. Please contact us for stock availability.
The MOU-AO202C is an intelligent economy 20x2 USB OLED display. Engineered to quickly and easily add a powerful HMI to any application.

Our Intelligent Character USB OLED displays provides you with a cost-effective industrial HMI user interface solution for that great product/project you are developing. This USB OLED displays features optional on-board medium digits, bar graphs and 3 GPOs will allow fast development for any application.

20x2 USB LCD
Intelligent USB LCD
Character OLED

Available Interfaces: Serial RS232 and TTL
Communication speed of 9600 and 19.2k hardware selectable
5V voltage
FT232 OLED

3 General Purpose Outputs
Built in Horizontal or Vertical bar graphs
Temperature of 0C to 50C
Fast and easy development
Designed, supported and Made in CANADA
Long life cycle
Semi-custom designs available
Backed by Matrix Orbital's decades of research and development

Module
Family/Series
Economy Display
Module Width (mm)
116
Module Height (mm)
37
Module Thickness (mm)
23.5
Screen
Text Color
Blue, Green, White, Yellow
Background Color
Black
Display Type
Character OLED
Display Mode
Transmissive
Backlight Type
None
Diagonal Screen Size (in)
3.4
Viewing Area Width (mm)
85
Viewing Area Height (mm)
18.6
Active Area Width (mm)
77.3
Active Area Height (mm)
11.85
Resolution Width (Pixels)
100
Resolution Height (Pixels)
16
Pixel Pitch Width (mm)
0.65
Pixel Pitch Height (mm)
0.7
Pixel Width (mm)
0.6
Pixel Height (mm)
0.65
Character Columns
20
Character Rows
2
Character Pitch Width (mm)
3.9
Character Pitch Height (mm)
6.25
Character Width (mm)
3.2
Character Height (mm)
5.55
Font
Japanese, European
Viewing Direction
Any
Viewing Angle
160
HMI
Touchscreen
None
Keypad
None
Keys
None
Haptic Feedback
None
Audio Feedback
None
GPO's
3
Advanced GPO's
None
DOW
None
Integrated LED's
None
Electrical
Interface
USB
Command Protocol
Matrix Orbital
Controller
ATMega8535
Negative Voltage
None
Backlight Driver
None
Minimum Voltage (Vdc)
5
Typical Voltage (Vdc)
5
Maximum Voltage (Vdc)
5
Header
Standard
Environmental
Min. Operating Temp. (°C)
-20
Max. Operating Temp. (°C)
70
Min. Storage Temp. (°C)
-20
Max. Storage Temp. (°C)
70
Documents

File Name
Revision
Size
&nbsp
File Name
Revision
Size
Economy Series
X-Board Hardware Manual
1.0
636.75KiB
Economy Series
Economy Series Manual
1.0
1.63MiB

Description

Hardware manual for MOI, MOS, and MOU series displays.
Compliance

File Name
Revision
Size
&nbsp
File Name
Revision
Size
Economy Series
RoHS 2 MOU-AO202C
234.19KiB