MK2041
MK2041
Canada Day Holiday Notice
Matrix Orbital will be closed from July 1st to July 5th, 2020 for Canada Day celebrations.
No shipping or processing of orders will take place during this time.
Normal business will resume on Monday July 6th, 2020.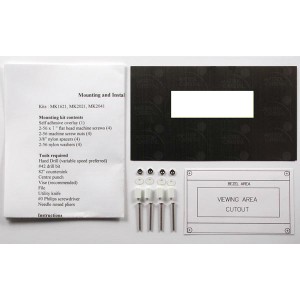 Mount a 20 character x 4 line display just about anywhere with this kit. Place the self-adhesive overlay on the surface where you'd like to mount the display; use it as a guide for cutting out a window for the display and drilling holes for the mounting screws.
Includes:

4 x 2-56 x 1" flat head machine screws
4 x 2-56 machine screw nuts
4 x 3/8" nylon spacers
4 x 2-56 nylon washers
1 x Self Adhesive Overlay
1 x Adhesive cut and drill guide

Compatible Displays:

LK/ VK204-25
LK/ VK204-25-USB
GLK12232-25-FGW/WB (NOT "-SM")