MOP-AO204A
4/8bit Parallel OLED 20x4
Canada Day Holiday Notice
Matrix Orbital will be closed from July 1st to July 5th, 2020 for Canada Day celebrations.
No shipping or processing of orders will take place during this time.
Normal business will resume on Monday July 6th, 2020.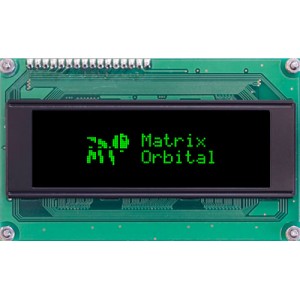 Our high quality 20x4 alphanumeric OLED parallel displays feature a 4/8 bit WIN0010 compliant controller.

Notice: The Green and Blue color options have been discontinued. Please contact us for stock availability.
Module
Family/Series
Parallel Display
Module Width (mm)
98
Module Height (mm)
60
Module Thickness (mm)
10
Screen
Text Color
Blue, Green, White, Yellow
Background Color
Black
Display Type
Character OLED
Display Mode
Transmissive
Backlight Type
None
Diagonal Screen Size (in)
3.2
Viewing Area Width (mm)
77
Viewing Area Height (mm)
25.2
Active Area Width (mm)
70.16
Active Area Height (mm)
20.95
Resolution Width (Pixels)
100
Resolution Height (Pixels)
32
Pixel Pitch Width (mm)
0.59
Pixel Pitch Height (mm)
0.6
Pixel Width (mm)
0.54
Pixel Height (mm)
0.55
Character Columns
20
Character Rows
4
Character Pitch Width (mm)
3.54
Character Pitch Height (mm)
5.4
Character Width (mm)
2.95
Character Height (mm)
4.75
Font
Japanese, European
Viewing Direction
Any
Viewing Angle
160
HMI
Touchscreen
None
Keypad
None
Keys
None
Haptic Feedback
None
Audio Feedback
None
GPO's
None
Advanced GPO's
None
DOW
None
Integrated LED's
None
Electrical
Interface
Parallel
Command Protocol
Display Driver
Controller
IST0010
Negative Voltage
None
Backlight Driver
None
Minimum Voltage (Vdc)
5
Typical Voltage (Vdc)
5
Maximum Voltage (Vdc)
5
Header
None
Environmental
Min. Operating Temp. (°C)
-40
Max. Operating Temp. (°C)
80
Min. Storage Temp. (°C)
-40
Max. Storage Temp. (°C)
80
Documents

File Name
Revision
Size
&nbsp
File Name
Revision
Size
MOP Character OLED
MOP-AO204A (Rev 1.0)
1.0
1.64MiB

Description

Datasheet for the MOP-AO204A parallel display.


Alphanumeric Oled
PCN 2019-06-13-01.pdf
285.55KiB

Description

20x4 OLED Display Change

Compliance

File Name
Revision
Size
&nbsp
File Name
Revision
Size
Parallel Series
RoHS 2 MOP-AO204A
234.1KiB