HTT104A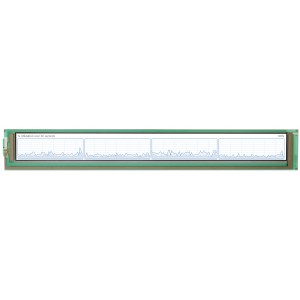 The HTT104A is a 1U plug and play HDMI HMI display that features a full color 1024 x 100 TFT, automatic resolution detection and a 24bit DVI/HDMI interface. The resistive, capacitive, or non-touch modules are compatible with a wide range of systems including: Raspberry Pi, Windows, Linux and BeagleBone. From the hobbyist to the high volume industrial application, the HTT Series was designed to satisfy a wide range of customer application requirements.
Additional Features Include:
Upgradable touch driver firmware
USB for touchscreen
HMI mouse interface
Horizontal or Vertical headers for easy Panel Mounting
5V or 5-35V Industrial Power Input
Operating Temp: -20 to +70C
Semi-Custom designs available
Module
Family/Series
HTT
Module Width (mm)
288.92
Module Height (mm)
41.5
Screen
Display Type
TFT - Color
Backlight Type
LED
Diagonal Screen Size (in)
10.4
Active Area Width (mm)
264.19
Active Area Height (mm)
25.8
Resolution Width (Pixels)
1024
Resolution Height (Pixels)
100
Pixel Pitch Width (mm)
0.258
Pixel Pitch Height (mm)
0.258
Font
Multilingual
Viewing Direction
Bottom
Viewing Angle
120
HMI
Touchscreen
None, Resistive
Keypad
None
Keys
None
Haptic Feedback
None
Audio Feedback
None
GPO's
None
Advanced GPO's
None
DOW
None
Integrated LED's
None
Electrical
Interface
HDMI
Command Protocol
HDMI
Controller
TFP401A+LPC11U23
Backlight Driver
Integrated
Minimum Voltage (Vdc)
4.75
Typical Voltage (Vdc)
5, 5-35
Maximum Voltage (Vdc)
35
Header
Horizontal, Vertical
Environmental
Max. Operating Temp. (°C)
50
Min. Storage Temp. (°C)
-10
Max. Storage Temp. (°C)
60
Documents

File Name
Revision
Size
&nbsp
File Name
Revision
Size
HTT104A
HTT104A-H6-TPR Drawing
1.0
2.14MiB
HTT104A
HTT104A-H6-TPR Drawing
1.0
290.65KiB
HTT104A
HTT104A-H6-TPN Drawing
1.0
2.31MiB
HTT104A
HTT104A-H6-TPN Drawing
1.0
285.31KiB
HTT104A
HTT104A-H5-TPR Drawing
1.0
2.3MiB
HTT104A
HTT104A-H5-TPR Drawing
1.0
304.44KiB
HTT104A
HTT104A-H5-TPN Drawing
1.0
2.6MiB
HTT104A
HTT104A-H5-TPN Drawing
1.0
299.12KiB
HTT104A
HTT104A Hardware Manual
1.0
1023.3KiB
HTT Series
HTT Series Multi-touch Firmware Guide (Rev 1.0).pdf
1.0
907.31KiB

Description

Guide to installing the HTT multitouch/gesture recognition firmware on your HTT. 

Released on January 28, 2019

Notes

Once installed, the HTT touch panel will now be classified and recognized as a touch digitizer instead of an HID-compliant mouse. Operating systems will now use touch digitizer drivers, and use touch screen drivers on the display. This allows gestures such as one finger scroll, pinch to zoom, and swipes to be used on the HTT.
Downloads

File Name
Revision
Size
&nbsp
File Name
Revision
Size
HTT Utility
HTT Multitouch Utility R2.0.10588.zip
1.0
52.82KiB

Description

Supported units: HTT50A-TPR, HTT50A-TPC, HTT50G-TPC, HTT70A-TPR, HTT70A-TPC, HTT70G-TPC. For use in Windows only.

Released on January 8, 2019


Notes

Utility to change the display touch orientation, save and load calibration files (for TPRs), and other future features. 

For use with new HTT muti-touch firmware >= R2.0.10589


HTT Firmware
HTT Multitouch R2.0.10589.zip
1.0
12.13KiB

Description

Firmware file for the HTT series.  Supported units: HTT50A-TPR, HTT50A-TPC, HTT50G-TPC, HTT70A-TPR, HTT70A-TPC, HTT70G-TPC

Released on January 8, 2019


Notes

New multi-touch firmware.


HTT Calibration Software
HTT Multitouch Calibration R2.0.10592.zip
1.0
26.75KiB

Description

Calibration software for the HTTXX-TPR series. For use in Windows only.


Released on January 8, 2019

Notes

For use with HTT with >= R2.0.10589 firmware