GLT12232A-SM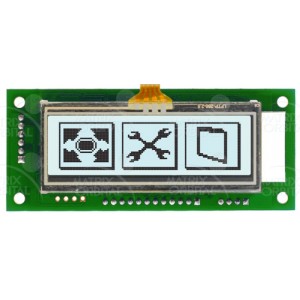 This is a 122 x 32 pixel graphic display in a small form factor that is perfect for adding graphics to even a small viewable area. This tiny high resolution display is approximately the same size as a 16x2 character display and is designed to upgrade older alphanumeric displays. This display includes a number of advanced user interface features including a 25 key input, 2 five volt general purpose outputs, and a piezo electric buzzer. Additionally, 256KB of memory is available to custom touches including fonts and bitmaps. With Tri-Colour, Grey/White, and White/Blue colour options, this versatile display can upgrade the look of your existing project, or add a high end look to a new product.
Module
Family/Series
Intelligent Display
Module Width (mm)
86.1
Module Height (mm)
35.1
Screen
Display Type
Graphic LCD
Backlight Type
LED
Viewing Area Width (mm)
60.2
Viewing Area Height (mm)
18
Active Area Width (mm)
53.64
Active Area Height (mm)
15.64
Resolution Width (Pixels)
122
Resolution Height (Pixels)
32
Pixel Pitch Width (mm)
0.44
Pixel Pitch Height (mm)
0.49
Pixel Width (mm)
0.4
Pixel Height (mm)
0.45
Font
Multilingual
Viewing Direction
Bottom
Viewing Angle
60
HMI
Touchscreen
Resistive
Keypad
None
Keys
None
Haptic Feedback
None
Audio Feedback
Piezo Buzzer
GPO's
2
Advanced GPO's
None
DOW
None
Integrated LED's
None
Graphic Memory
256kB
Electrical
Interface
RS232, TTL, I2C, USB
Command Protocol
Matrix Orbital
Controller
LPC1752
Negative Voltage
Integrated
Backlight Driver
Integrated
Minimum Voltage (Vdc)
3.3
Typical Voltage (Vdc)
3.3, 5-15
Maximum Voltage (Vdc)
15
Header
Standard
Environmental
Min. Operating Temp. (°C)
0, -20
Max. Operating Temp. (°C)
50, 60
Min. Storage Temp. (°C)
-30, -10
Max. Storage Temp. (°C)
60, 80
Manuals

File Name
Revision
Size
&nbsp
File Name
Revision
Size
MOP-TFT320240-35A
MOP-TFT320240-35A-TPC 3D Drawing
1.0
231.14KiB

Description

Step style 3D Drawing for MOP-TFT320240-35A-TPC.