EVE2-50G
EVE2 5.0" 800x480 Graphic TFT Display HMI with Oversize Mountable Capacitive Touch Screen SPI
Canada Day Holiday Notice
Matrix Orbital will be closed from July 1st to July 5th, 2020 for Canada Day celebrations.
No shipping or processing of orders will take place during this time.
Normal business will resume on Monday July 6th, 2020.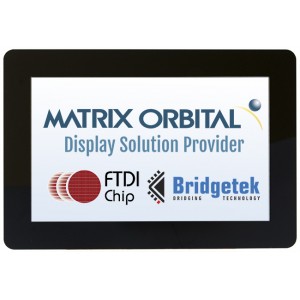 The Matrix Orbital EVE2 SPI TFT utilizes the FTDI FT813 EVE (Embedded Video Engine) to create fast and economical HMI systems. With built in graphics operations, sound synthesizer, digital filter and support for multiple widgets you can create your own stunning screens and interfaces with the EVE Screen Designer software.
Features:
5.0" 800x480 Graphic TFT Display WVGA - Oversized Mountable Capacitive Touch TFT
Easy mounting and stylish design
3M 200MP adhesives

FT813 24bit TFT GPU
1 MB graphics RAM
3.3V
SPI TFT interface
Integrated backlight PWM LED Driver
Standard 20 Pin Connector
Mono 8-bit linear audio wave playback
SPI and QSPI communication protocol
Advanced Embedded Video Engine (EVE) with high resolution graphics and video playback
EVE Screen Designer (ESD) GUI drag and drop design suite
Supports multiple widgets
Supports landscape or portrait orientations
Supports playback of motion-JPEG encoded AVI videos
Extended Operating temperature range: -20oC to 70oC
Fast and easy development
Designed, supported and Made in CANADA
Long life cycle
Customer silk screening available
Semi-custom designs available
Long life production
Backed by Matrix Orbital's decades of research and development
Module
Family/Series
EVE
Module Width (mm)
136.00
Module Height (mm)
92.80
Screen
Display Type
TFT - Color
Backlight Type
LED
Diagonal Screen Size (in)
5
Active Area Width (mm)
108
Active Area Height (mm)
64.8
Resolution Width (Pixels)
800
Resolution Height (Pixels)
480
Pixel Pitch Width (mm)
0.135
Pixel Pitch Height (mm)
0.135
Font
Multilingual
Viewing Direction
Bottom, Top
Viewing Angle
140
HMI
Touchscreen
Capacitive
Keypad
None
Keys
None
Haptic Feedback
None
Audio Feedback
None
GPO's
4
Advanced GPO's
None
DOW
None
Integrated LED's
None
Graphic Memory
1MB
Hardness
6H (Cap)
Electrical
Interface
SPI, QSPI
Command Protocol
EVE2
Controller
FT81x
Backlight Driver
Integrated
Minimum Voltage (Vdc)
3.3
Typical Voltage (Vdc)
3.3
Maximum Voltage (Vdc)
3.3
Header
Standard
Environmental
Min. Operating Temp. (°C)
-20
Max. Operating Temp. (°C)
70
Min. Storage Temp. (°C)
-30
Max. Storage Temp. (°C)
80