eGTT50A
16bit Color 5.0" 800 x 480 Graphic WVGA TFT HMI intelligent display that features a full color resistive or capacitive touchscreen. Additionally, the field updatable micro SD card stores font and bitmap files to liberate space and resources for use b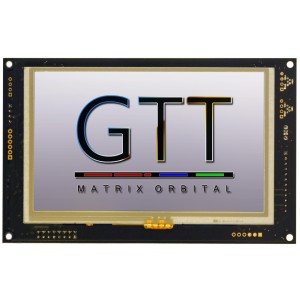 The eGTT50A is an intelligent TFT display that features a full color resistive, or capacitive touchscreen. With the available - industry standard - communication protocols (serial RS232, TTL, I2C, RS422 and USB) communicating, controlling and interacting with the display is easily achieved.
Field updatable micro SD card stores font and bitmap files to liberate space and resources for use by the microcontroller, Arduino, or other HMI controller. Suitable for a wide range of applications, and with a resolution of 800 x 480, the eGTT50A is a complete display solution that will quickly become the bright fresh face of your machine or user interface.
Pair the eGTT series with our free software - GTT Designer - to design screens and user interactions quickly and easily. The software, which is compatible with all eGTT displays, is a fully graphical, object-on, drag and drop suite with a library of built-in objects. Including: graphs, charts, buttons and animations. The interface was designed so no technical expertise is required to create a fully interactive user interface in minutes.
Features
16bit Color 5.0" 800x480 Graphic WVGA TFT display
Available Interfaces: Serial RS232, TTL, I2C, RS422 and USB
Resistive or Capacitive Touch panel
2 GB on-board memory for fonts, graphics and animations
32MB of RAM
Two available voltage options: 5Vdc or 9-35Vdc
Programmable to display any language
Field upgradable firmware
Hardware flow control
Fast and easy development
Designed, supported and Made in CANADA.
Backed by Matrix Orbital's decades of research and development.
Module
Family/Series
eGTT
Module Width (mm)
142
Module Height (mm)
90
Screen
Display Type
TFT - Color
Backlight Type
LED
Diagonal Screen Size (in)
5
Active Area Width (mm)
108
Active Area Height (mm)
64.8
Resolution Width (Pixels)
800
Resolution Height (Pixels)
480
Pixel Pitch Width (mm)
0.135
Pixel Pitch Height (mm)
0.135
Font
Multilingual
Viewing Direction
Bottom, Top
Viewing Angle
140
HMI
Touchscreen
Resistive, Capacitive
DOW
None
Integrated LED's
None
Graphic Memory
2GB
Hardness
3H (Res), 6H (Cap)
Electrical
Interface
RS232, TTL, RS422, USB, I2C
Command Protocol
Matrix Orbital
Controller
LPC1788
Backlight Driver
Integrated
Minimum Voltage (Vdc)
5
Typical Voltage (Vdc)
5, 9-35
Maximum Voltage (Vdc)
35
Header
Standard, Right Angle, Locking, Terminal Block, None
Environmental
Min. Operating Temp. (°C)
-20
Max. Operating Temp. (°C)
70
Min. Storage Temp. (°C)
-30
Max. Storage Temp. (°C)
80
Documents

File Name
Revision
Size
&nbsp
File Name
Revision
Size
GTT Developer Resources
GTT Protocol Manual
2.7.1
2.05MiB

Description

GTT Protocol Manual for all GTT series displays.

GTT Developer Resources
GTT Developer Manual
1.0
1.35MiB

Description

Revision 1.0 of the GTT Developer Manual for all displays in the GTT series.


eGTT50A
eGTT50-TPR Drawing (Rev 1.0).pdf
327.29KiB

Description

TPN: non touch, TPR: resistive touch, TPC: capacitive touch


eGTT50A
eGTT50-TPR Drawing (Rev 1.0).dwg
17.26MiB

Description

TPN: non touch, TPR: resistive touch, TPC: capacitive touch


eGTT50A
eGTT50-TPR (Rev 1.0) .step
13.93MiB

Description

TPN: non touch, TPR: resistive touch, TPC: capacitive touch


eGTT50A
eGTT50-TPN Drawing (Rev 1.0).pdf
326.34KiB

Description

TPN: non touch, TPR: resistive touch, TPC: capacitive touch


eGTT50A
eGTT50-TPN Drawing (Rev 1.0).dwg
17.06MiB

Description

TPN: non touch, TPR: resistive touch, TPC: capacitive touch


eGTT50A
eGTT50-TPN (Rev 1.0).step
13.92MiB

Description

TPN: non touch, TPR: resistive touch, TPC: capacitive touch


eGTT50A
eGTT50-TPC Drawing (Rev 1.0).pdf
327.61KiB

Description

TPN: non touch, TPR: resistive touch, TPC: capacitive touch


eGTT50A
eGTT50-TPC Drawing (Rev 1.0).dwg
17.32MiB

Description

TPN: non touch, TPR: resistive touch, TPC: capacitive touch


eGTT50A
eGTT50-TPC (Rev 1.0).step
14.01MiB

Description

TPN: non touch, TPR: resistive touch, TPC: capacitive touch