BLK204-7T-1U
5.25" 1U 20x4 Character LCD Display HMI using Serial RS232, TTL, USB, I2C, RS422 with 7 key tactile keypad, 3 dual colour LED's, 5V, 12V, 24V RGB Backlight
Canada Day Holiday Notice
Matrix Orbital will be closed from July 1st to July 5th, 2020 for Canada Day celebrations.
No shipping or processing of orders will take place during this time.
Normal business will resume on Monday July 6th, 2020.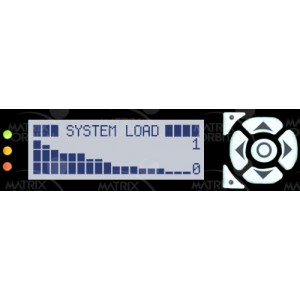 Serial Communication and power cable SCCPC5VThe BLK204-7T is a 5.25" PC Bay Insert 1U with a 4x20 Intelligent LCD display. Engineered to quickly and easily add an elegant graphic HMI to any application. Multiple communication protocols such as Serial RS232, TTL, I2C, and USB communication models allow the BLK204-7T Graphic LCD to be connected to a wide variety of host controllers.

Our Character LCD provides you with a cost-effective industrial HMI user interface solution for that great product/project you are developing. This LCD displays features optional on-board large and medium digits all with the convenience of a 7 key backlit tactile keypad will allow fast development for any application.
Includes:
LCD: LK204-7T-1U
Mounting Bracket: B19264-BK
Cable: Serial Communication and power cable SCCPC5V
4x20 Character LCD Display 1U HMI
5.25" PC Bay 1U Insert
Available Interfaces: Serial RS232, TTL, I2C, and USB
7 key backlit tactile keypad
3 dual colour indication status LEDs
Piezo Buzzer to provide audio feedback
Software controlled contrast and brightness with configurable time-out setting up to 90 minutes
Built in Horizontal or Vertical bar graphs
Extended temperature available for extreme environments of -20C to 70C
Fast and easy development
Designed, supported and Made in CANADA
Long life cycle
Backed by Matrix Orbital's decades of research and development

Without enclosure as LK204-7T-1U
External Metal and ABS Plastic Enclosure as ELK204-7T

Module
Family/Series
PC Bay Insert
Module Width (mm)
148
Module Height (mm)
42.3
Screen
Display Type
Character LCD
Backlight Type
LED
Viewing Area Width (mm)
82
Viewing Area Height (mm)
36
Active Area Width (mm)
77
Active Area Height (mm)
23.6
Resolution Width (Pixels)
100
Resolution Height (Pixels)
32
Pixel Pitch Width (mm)
0.65
Pixel Pitch Height (mm)
0.65
Pixel Width (mm)
0.6
Pixel Height (mm)
0.6
Character Columns
20
Character Rows
4
Character Pitch Width (mm)
3.9
Character Pitch Height (mm)
6.15
Character Width (mm)
3.2
Character Height (mm)
5.15
Font
Japanese
Viewing Direction
Top
Viewing Angle
60
HMI
Touchscreen
None
Keypad
7
Haptic Feedback
None
Audio Feedback
None
GPO's
3
Advanced GPO's
None
DOW
Optional, 1
Integrated LED's
3
Bezel
Black
Electrical
Interface
RS232, TTL, I2C, USB
Command Protocol
Matrix Orbital
Controller
ATMega164P
Negative Voltage
Integrated
Backlight Driver
Integrated
Minimum Voltage (Vdc)
3.3
Typical Voltage (Vdc)
3.3, 5
Maximum Voltage (Vdc)
5
Header
Standard
Environmental
Max. Operating Temp. (°C)
50
Min. Storage Temp. (°C)
-20
Max. Storage Temp. (°C)
70