BEZ-204A-V1-W-KIT
Bezel & Mounting 20x4 LCD|VFD|OLED Displays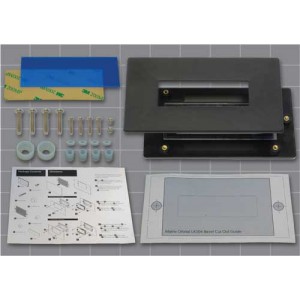 Mounting bezel for 20x4 displays made from textured black ABS. This kit includes all mounting hardware and easy to use mounting cutout template.
Includes:

1x BEZ-204A-V1
1x Window
4x 6mm Spacers for display
4x Mounting screws for display (5/8")
4x Mounting screws for display (3/8")
2x Washers and mounting screws (1/8")
4x Spacers (1/16")
1x Manual
1x Adhesive cutout template

 

Compatible displays:

LCD/VFD2041
LK/VK204-25
LK/VK204-25-USB
MOP-AL204A
GLK12232-25-FGW/WB
Many other industry LCDs, VFDs and OLEDs with a 93mm x 55mm mounting holes
Please contact Sales@MatrixOrbital.ca if you have any questions regarding the compatibility.