BEZ-204A-V1-W-KIT
Bezel & Mounting 20x4 LCD|VFD|OLED Displays
Canada Day Holiday Notice
Matrix Orbital will be closed from July 1st to July 5th, 2020 for Canada Day celebrations.
No shipping or processing of orders will take place during this time.
Normal business will resume on Monday July 6th, 2020.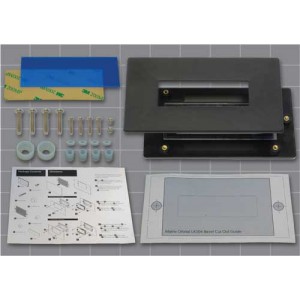 Mounting bezel for 20x4 displays made from textured black ABS. This kit includes all mounting hardware and easy to use mounting cutout template.
Includes:

1x BEZ-204A-V1
1x Window
4x 6mm Spacers for display
4x Mounting screws for display (5/8")
4x Mounting screws for display (3/8")
2x Washers and mounting screws (1/8")
4x Spacers (1/16")
1x Manual
1x Adhesive cutout template

 

Compatible displays:

LCD/VFD2041
LK/VK204-25
LK/VK204-25-USB
MOP-AL204A
GLK12232-25-FGW/WB
Many other industry LCDs, VFDs and OLEDs with a 93mm x 55mm mounting holes
Please contact Sales@MatrixOrbital.ca if you have any questions regarding the compatibility.