B2041
B2041 (Bracket)
Canada Day Holiday Notice
Matrix Orbital will be closed from July 1st to July 5th, 2020 for Canada Day celebrations.
No shipping or processing of orders will take place during this time.
Normal business will resume on Monday July 6th, 2020.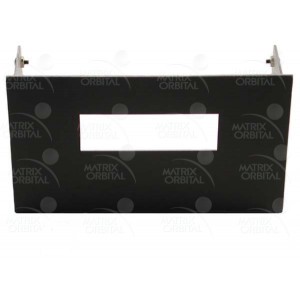 This sleek and durable rust-resistant mounting bracket fits two 5 1/4" bays and comes with all that you will need for mounting.
Includes:

1 x Steel Mounting Bracket
1 x Overlay
1 x Bracket Installation Instructions
4 x 3/8" Spacers
4 x 1/2" Spacers
4 x Washers
4 x 5/8" Screws
4 x 3/4" Screws

Compatible Displays:

LCD/VFD2041
LK/VK204-25
LK/VK204-25-USB
GLK12232-25-FGW/WB (NOT "-SM")
Note:
     Communication and power cables sold separately
     Please inquire for MOP, MOU, MOI and MOS series compatibility
Documents

File Name
Revision
Size
&nbsp
File Name
Revision
Size
Bay Inserts
B19264-BK Drawing
1.0
61.5KiB

Description

2D PDF style drawing of the B19264-BK metal bracket.

Bay Inserts
B204 Bracket Drawing
3.38KiB

Description

2D PDF style drawing of the metal bracket used for the B2041 and B204A.

Bay Inserts
B202 Bracket Drawing
82.51KiB

Description

2D PDF style drawing of the metal bracket used for the B2021 and B202A.

Bay Inserts
3D Model for B19264-BK
1.01MiB

Description

.step style 3D Model for B19264-BK