GTT35A
3.5" 320 x 240 Graphic TFT QVGA display Arduino HMI with full color, resistive or capacitive touchscreen.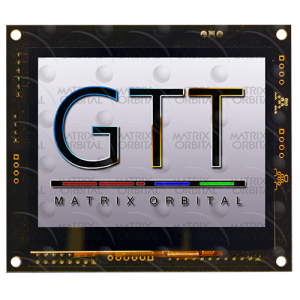 The GTT35A is an intelligent Graphic TFT display that features a full color resistive, or capacitive touchscreen. With the available - industry standard - communication protocols (serial RS232, TTL, I2C, RS422 and USB) and the incorporation of a 25 key (matrix-style) keypad header, communicating, controlling and interacting with the display is easily achieved.
Included features, like the piezo speaker and vibratory motor, provide tactile and audio feedback for a comfortable, confident user interaction. Additionally, the field updatable micro SD card stores font and bitmap files to liberate space and resources for use by the microcontroller, Arduino, or other HMI controller. Suitable for a wide range of applications, and with a resolution of 320 x 240, the GTT35A is a complete display solution that will quickly become the bright fresh face of your machine or user interface.
Pair the GTT series with our free software - GTT Designer - to design screens and user interactions quickly and easily. The software, which is compatible with all GTT displays, is a fully graphical, object-on, drag and drop suite with a library of built-in objects. Including: graphs, charts, buttons and animations. The interface was designed so no technical expertise is required to create a fully interactive user interface in minutes.
Features
16bit Color 3.5" - 320 x 240 Graphic TFT QVGA display
Available Interfaces: Serial RS232, TTL, I2C, RS422 and USB
Resistive or Capacitive Touch panel
25 key - matrix style - keypad
2 GB on-board memory for fonts, graphics and animations
32MB of RAM
6 General Purpose Outputs
Two available voltage options: 5Vdc or 9-35Vdc
Programmable to display any language
Field upgradable firmware
Piezo Buzzer to provide audio feedback
Vibratory motor to provide tactile feedback
Hardware flow control
Fast and easy development
Designed, supported and Made in CANADA.
Backed by Matrix Orbital's decades of research and development.
Module
Family/Series
GTT
Module Width (mm)
98
Module Height (mm)
78
Screen
Display Type
TFT - Color
Backlight Type
LED
Diagonal Screen Size (in)
3.5
Active Area Width (mm)
70.08
Active Area Height (mm)
52.56
Resolution Width (Pixels)
320
Resolution Height (Pixels)
240
Pixel Pitch Width (mm)
0.219
Pixel Pitch Height (mm)
0.149
Font
Multilingual
Viewing Direction
Bottom, Top
Viewing Angle
120
HMI
Touchscreen
Resistive, Capacitive
Keys
25
Haptic Feedback
Vibratory Motor
Audio Feedback
Piezo Buzzer
GPO's
6
Advanced GPO's
None
DOW
None
Integrated LED's
None
Graphic Memory
2GB
Hardness
3H (Res), 6H (Cap)
Electrical
Interface
RS232, TTL, RS422, USB, I2C
Command Protocol
Matrix Orbital
Controller
LPC1788
Backlight Driver
Integrated
Minimum Voltage (Vdc)
5
Typical Voltage (Vdc)
5, 9-35
Maximum Voltage (Vdc)
35
Header
Standard, Right Angle, Locking, Terminal Block, None
Environmental
Min. Operating Temp. (°C)
-20
Max. Operating Temp. (°C)
70
Min. Storage Temp. (°C)
-30
Max. Storage Temp. (°C)
80
Downloads

File Name
Revision
Size
&nbsp
File Name
Revision
Size
GTT Firmware
GTT Rev2.0 Firmware R2.13.0.10563
2.13
474.4KiB

Description

Firmware files for the GTT series, including the GTT Client Library.  Supported units: GTT29A, GTT35A, GTT38A, GTT38C, GTT43A, GTT50A, GTT52B, GTT70A.

Released on December 19, 2018

Notes

GTT Firmware Changelog from R2.12.0.10217:

New Feature: Added Support for NEW GTT52B module
New Feature: Added Create Folder Command
New Feature: Added support for >4GB uSD memory cards
New Feature: Added Secured Communication, Command 254 251 Flags[U8] bit 0 (wrapping commands with CRC check)**
New Feature: Added Option to Using Secured Communication, Command 254 251 Flags[U8] bit 1**
Bug Fix: Fixed Animation rendering
Bug Fix: Clipping command was off by 1
Bug Fix: Stroke pad not rendering
Optimization: Enhanced floating point labels in Charts

** please see GTT Developer Manual 

GTT Firmware
GTT Rev2.0 Firmware R2.12.0.10217
2.12
476.21KiB

Description

Firmware files for the GTT series, including the GTT Client Library.  Supported units: GTT29A, GTT35A, GTT38A, GTT43A, GTT50A, GTT52B, GTT70A.


Notes

Changelog from R2.11.0.10067

New Feature: Added Communication Logging feature
New Feature: Added Colour Properties for Chart Axes
New Feature: Added Tick Frequency and Length for Chart Axes
Bug Fix: Fixed alignment and clipping issues for Chart Axes
Bug Fix: Fixed possible overflow for large data packets
Bug Fix: Fixed printing of floating point numbers
Optimization: Decrease font rendering speed

GTT Firmware
GTT Rev2.0 Firmware R2.11.0.10067
2.11
437.37KiB

Description

Firmware files for the GTT series, including the GTT Client Library.  Supported units: GTT29A, GTT35A, GTT38A, GTT43A, GTT50A, GTT52B, GTT70A.


Notes

Changelog from R2.10.0.9823

New Feature: Added GTT Client Library
New Feature: Added Screenshot command
New Feature: Added GTT2.5 command to Get/Set Backlight
New Feature: Added MAC commands for Ethernet units
Bug Fix: Correctly set proper first frame for an animation
Bug Fix: Fixed and issue where single GTT25 events were processed twice in the client library
Optimization: Improved space usage for Flash memory
Optimization: Improved update speed when large numbers of objects are on screen

GTT Firmware
GTT Rev2.0 Firmware R2.10.0.9823
2.10
384.38KiB

Description

Firmware files for the GTT series.  Supported units: GTT29A, GTT35A, GTT38A, GTT43A, GTT50A, GTT52B, GTT70A.


Notes

Changelog from R2.9.0.9625

New Feature: Added a Visual Bitmap feature for future Designer tool.
New Feature: Added a Raw Button for future Designer upgrade.
New Feature: Added a GTT2.5 style Animation for future Designer upgrade.
Bug Fix: Fixed issue where Scripted Buttons would not execute properly on screen changes
Bug Fix: Fixed issue where the Append Label Event was not working
Optimization: Added a method to process outstanding redraws faster.

GTT Firmware
GTT Rev2.0 Firmware R2.8.0.9398
2.8
384.38KiB

Description

Firmware files for the GTT series. Supported units: GTT29A, GTT35A, GTT38A, GTT43A, GTT50A, GTT52B, GTT70A.


Notes

Changelog from R2.7.0.8424

Object Update: Updated all implementation of Buttons
Bug Fix: Fixed issue where Sliders would not respond
Bug Fix: Fixed issue where Label colours were not updated correctly
Optimization: Cleanup nineslice and animations at shutdown
Optimization: Fixed memory leaks causing reboot
New Feature: Added Disabled state for Buttons
New Feature: Added Focus (Selected) state for Buttons
New Display: Added support for GTT52B
New Feature: Added global increment/decrement and set Focus
New Feature: Added EventGraphs to allow more Button/Keypad functionality
Bug Fix: Corrected response from Font Caching command

GTT Firmware
GTT Rev2.0 Firmware R2.7.0.8428
2.7
1.19MiB
GTT Firmware
GTT Rev2.0 Firmware R2.6.0.8194
2.6
1.1MiB
GTT Firmware
GTT Rev2.0 Firmware R2.5.0.7838
2.5
384.38KiB
GTT Firmware
GTT Rev2.0 Firmware R2.4.0.7300
2.4
400.87KiB
GTT Firmware
GTT Rev2.0 Firmware R2.3.0.6964
2.3
1.12MiB
GTT Firmware
GTT Rev2.0 Firmware R2.2.0.6069
2.2
384.42KiB
GTT Support Software
GTT 2.0 Support Software 2.2.0.0
02.2
306.13KiB

Description

Support Software for the GTT Rev2.0 line, supports the GTT35A, GTT38A, GTT43A, GTT50A, and GTT70A. Version 2.2.0.0 adds support for firmware version 2.6 commands and fixes an issue with the Print UTF-8 command.

GTT Support Software
GTT 2.0 Support Software 2.1.0.0
02.1
231.11KiB

Description

Support Software for the GTT Rev2.0 line, supports the GTT35A, GTT38A, GTT43A, GTT50A, and GTT70A. Version 2.1.0.0 adds support for byte and signed word array parameters.

GTT Designer Software
GTT 2.0 Start Screens
02.0
731.12KiB

Description

Factory default start screens for the GTT35A, GTT38A, GTT43A, GTT50A, GTT57A, and GTT70A.

GTT Designer Software
GTT 2.0 Design Software 1.14.0.10441
1.14
37.44MiB

Description

Develop and maintain gorgeous user interfaces and menu structures for your GTT using this immersive Windows environment tool. Design Software for the GTT Rev2.0 line, supports the GTT29A, GTT35A, GTT38A, GTT43A, GTT50A, GTT52B, and GTT70A.


Notes

Changes from v1.13.0.10242: 

New Feature: Added Secure Communications Option Tick Box
New Feature: Added Status Messages Option Tick

Supported by firmware version R2.13.0.10528





GTT Designer Software
GTT 2.0 Design Software 1.13.0.10242
1.13
36.64MiB

Description

Develop and maintain gorgeous user interfaces and menu structures for your GTT using this immersive Windows environment tool. Design Software for the GTT Rev2.0 line, supports the GTT29A, GTT35A, GTT38A, GTT43A, GTT50A, GTT52B, and GTT70A.

Version 1.13.0.10242 brings the release of a major new GTT2.5 tool: charts, as well as development features such as logging and screenshots, in addition to minor bug fixes.

Notes

Changes from v1.12.0.10123

New Feature: Added Screenshot command to Tools
New Feature: Added Communication Logging commands to Tools
New Feature: Added Tick Frequency and Length for Chart Axes
Bug Fix: Correctly display Animation, Graph, and ImageList bitmaps after paste
Bug Fix: Correctly set the Font Window size based on screen size
Bug Fix: Fixed an issue where multiple objects were assigned the same ID

GTT Designer Software
GTT 2.0 Design Software 1.12.0.10123
1.12
36.64MiB

Description

Develop and maintain gorgeous user interfaces and menu structures for your GTT using this immersive Windows environment tool. Design Software for the GTT Rev2.0 line, supports the GTT29A, GTT35A, GTT38A, GTT43A, GTT50A, GTT52A, and GTT70A.

Version 1.12.0.10123 brings new GTT2.5 tools, including Images, ImageLists, and Animations, optimizations for screen loading and switching, and implements a number of bug fixes.

Notes

Changes from v1.11.0.9989

New Tool: Image (GTT2.5)
New Tool: Image List
New Tool: Animation (GTT2.5)
Bug Fix: Updated the ToggleText object to show the correct text when starting in the down state
Optimization: Removed duplicate bitmap generation when global bitmaps are used.
Optimization: Removed screen flicker when navigating between screens .

GTT Designer Software
GTT 2.0 Design Software 1.11.0.9989
1.11
36.6MiB

Description

Develop and maintain gorgeous user interfaces and menu structures for your GTT using this immersive Windows environment tool. Design Software for the GTT Rev2.0 line, supports the GTT29A, GTT35A, GTT38A, GTT43A, GTT50A, GTT52A, and GTT70A.

Version 1.11.0.9989 brings new tools, including Raw Buttons and Toggles, updates the Actions tab with an option to Clear All Traces, adds more Image Assets, and implements a number of bug fixes.

Notes

Changes from v1.10.0.9818

New Tool: Raw Button, Raw Button, which allows changed to background colour, as per Forum request from Druid
New Tool: Raw Toggle
New Action: Clear All Traces
Tool Update: Added Style options for Bar tools with labels including: None, Percentage, and Value
Tool Update: Added Disabled and Focus images to the BasicToggle25 Tool
Bug Fix: Corrected an issue where motor feedback selection activated piezo and vice versa
Bug Fix: Added transparent colour check for labels of all bars
Bug Fix: Fixed missing bitmap on copy/paste issue for Toggle Text Tool
New Feature: Added Image Assets
Optimization: Moved default SaveAs folder to one level higher
Optimization: Moved send events to host node for buttons to execute before scripts

GTT Designer Software
GTT 2.0 Design Software 1.10.0.9818
1.10
13.87MiB

Description

Develop and maintain gorgeous user interfaces and menu structures for your GTT using this immersive Windows environment tool. Design Software for the GTT Rev2.0 line, supports the GTT29A, GTT35A, GTT38A, GTT43A, GTT50A, GTT52A, and GTT70A. Version 1.10.0.9818 brings new tools, such as Axis Ticks and Two Colour Bargraphs, updates the Actions tab with options such as Set Bargraphs Colour and Set Gauge Test Colour, optimizations found in the updated Settings windows that allow even more loading options, and a number of bug fixes.

Notes

Changes from v1.9.0.9645

New Tool: Gui Axis Ticks
New Tool: Two Colour Bargraph
New Action: Set Slider Text Colour
New Action: Set Bargraph Colour
New Action: Set Gauge Text Colour
New Action: Set Gauge Needle Colour
GUI Update: Split Settings into Project and Display Settings tabs
GUI Update: Added Images option for Button objects
GUI Update: Added Text property and methods for Button objects to Report
Bug Fix: Fixed an issue where Bar Update Actions were not executed correctly for GTT2.5 objects
Bug Fix: Fixed an issue where the frequency of up/down beep responses was the same
Bug Fix: Corrected Up/Down Text implementation for Toggle Text
Bug Fix: Fixed an issue where Bars with Labels displayed incorrect values when min/max were swapped
Bug Fix: Fixed an issue where copying a screen with a hidden images resulted in an error
New Feature: Added Global Bitmaps to allow projects to be optimized for faster screen switches
New Feature: Added Loader Screen to display progress when booting, especially when Global Bitmaps are used
New Feature: Added Developer .c/.h files for future Client Library functionality
Optimization: Moved the font cache inititialization before the loader code

GTT Designer Software
GTT 2.0 Design Software 1.8.0.9367
1.8
13.82MiB

Description

Develop and maintain gorgeous user interfaces and menu structures for your GTT using this immersive Windows environment tool. Design Software for the GTT Rev2.0 line, supports the GTT29A, GTT35A, GTT38A, GTT43A, GTT50A, GTT52A, and GTT70A. Version 1.8.0.9367 brings full support for the integrated keypad of the GTT29A, exciting tool updates that offer enhanced customization, new event actions that improve object interaction, and minor GUI improvements to the Designer, including additional gauge designs.

Notes

Changes from v1.7.0.9105


New Display: Added GTT52B support
New Tool: Added Square Gauge
New Tool: Added Image Gauge
Tool Update: Upgraded implementation of all Button elements
Tool Update: Upgraded Gauge Label position to allow dynamic placement
Tool Update: Implemented real-time Designer response to Gauge value
Tool Update: Implemented Label and Tick Colours for Gauges
New Event: Added Set Button State and Set Button Focus actions
New Event: Added Set Button Text Colour action
New Event: Added Increment/Decrement Focus Action
New Feature: Added Disabled parameter to Buttons
New Feature: Added Focus (Selected) parameter to Buttons
New Feature: Added a Key Scan Code to Buttons to allow activation from Keypad
GUI Update: Improved visual styles for some Buttons
GUI Update: Added additional Gauge styles to Assets
GUI Update: Separated Legacy tools
Bug Fix: Minor updates to fix gauge needle length in the Designer view
Optimization: Disabled responses during screen load to reduce chatter

GTT Designer Software
GTT 2.0 Design Software 1.7.0.9105
1.7
8.73MiB

Description

Develop and maintain gorgeous user interfaces and menu structures for your revision 2.0 GTT using this immersive Windows environment tool. Design Software for the GTT Rev2.0 line, supports the GTT29A, GTT35A, GTT38A, GTT43A, GTT50A, GTT52A, and GTT70A. Version 1.7.0.9105 includes enhanced reporting for advanced tools, property additions to the gauge tick parameters, and GUI improvements.

GTT Designer Software
GTT 2.0 Design Software 1.6.0.8249
1.6
8.71MiB

Description

Develop and maintain gorgeous user interfaces and menu structures for your revision 2.0 GTT using this immersive Windows environment tool. Design Software for the GTT Rev2.0 line, supports the GTT29A, GTT35A, GTT38A, GTT43A, GTT50A, GTT52A, and GTT70A. Version 1.6.0.8429 includes major feature improvements including new tools, such as gauges and bars, updates to exisiting tools, GUI improvements, the addition of a Links tab for connecting objects, and full support for new commands released in GTT Firmware Version 2.7.

GTT Designer Software
GTT 2.0 Design Software 1.5.0.8082
1.5
8.53MiB

Description

Develop and maintain gorgeous user interfaces and menu structures for your revision 2.0 GTT using this immersive Windows environment tool. Design Software for the GTT Rev2.0 line, supports the GTT29A, GTT35A, GTT38A, GTT43A, GTT50A, and GTT70A. Version 1.5.0.8080 includes minor updates to the deployment window, style updates, the addition of an Events tab for visual script creation, and full support for new commands released in GTT Firmware Version 2.6.

GTT Designer Software
GTT 2.0 Design Software 1.4.0.7878
1.4
8.41MiB

Description

Develop and maintain gorgeous user interfaces and menu structures for your revision 2.0 GTT using this immersive Windows environment tool. Design Software for the GTT Rev2.0 line, supports the GTT35A, GTT38A, GTT43A, GTT50A, and GTT70A. Version 1.4.0.7878 includes minor updates to the user interface, the addition of new Image Assets, and new tools such as Animations, Image Sliders, and Image Nine-Slices.

GTT Designer Software
GTT 2.0 Design Software 1.3.0.7797
1.3
6.4MiB

Description

Develop and maintain gorgeous user interfaces and menu structures for your revision 2.0 GTT using this immersive Windows environment tool. Design Software for the GTT Rev2.0 line, supports the GTT35A, GTT38A, GTT43A, GTT50A, and GTT70A. Version 1.3.0.7797 includes minor updates to user interface and features, as well as new tools, such as Triangle Buttons and Sliders.

GTT Designer Software
GTT 2.0 Design Software 1.2.0.7732
1.2
6.35MiB

Description

Develop and maintain gorgeous user interfaces and menu structures for your revision 2.0 GTT using this immersive Windows environment tool. Design Software for the GTT Rev2.0 line, supports the GTT35A, GTT38A, GTT43A, GTT50A, and GTT70A. Version 1.2.0.7732 includes major updates to user interface, features, and tools.

GTT Designer Software
GTT 2.0 Design Software 1.1.0.6970
1.1
2.86MiB

Description

Develop and maintain gorgeous user interfaces and menu structures for your revision 2.0 GTT using this immersive Windows environment tool. Design Software for the GTT Rev2.0 line, supports the GTT35A, GTT38A, GTT43A, GTT50A, and GTT70A. Version 1.1.0.6970 includes fixes for labels and traces.

GTT Firmware
GTT Rev2.0 Bootloader R1.8.0.10540
1.0
165.65KiB

Description

This is a bootloader upgrade only, simply copy the .bin and .raw files to your GTT Upgrade folder and cycle power.

Do not delete the existing .bin firmware file. 


Notes

Changelog from R1.7.0.9031:

Added support >4GB uSD memory cards 

Added support for new GTT38C display module

GTT Firmware
GTT Rev2.0 Bootloader R1.7.0.9031
1.0
166.17KiB

Description

This is a bootloader upgrade only, simply copy the .bin and .raw files to your GTT Upgrade folder and cycle power.


Do not delete the existing .bin firmware file.







Notes

Changelog from R1.6.0.8428:


Added support GTT38A_ETH prototype unit 

GTT Support Software
GTT 1.0 Support Software 1.0.0.44
01.0
5.35MiB

Description

Support Software for the Legacy GTT Rev1.0 line, supports the GTT480272A. Version 1.0.0.44 includes a small fix to add flow control back into the auto detect process.

GTT Firmware
GTT Rev2.0 Bootloader R1.6.0.8428
166.08KiB

Description

Note: This is a bootloader upgrade only, simply copy the .bin and .raw files to your GTT Upgrade folder and cycle power. Do not delete the existing .bin firmware file. 

GTT Firmware
GTT Rev2.0 Bootloader R1.5.0.7702
165.19KiB

Description

Note: This is a bootloader upgrade only, simply copy the .bin and .raw files to your GTT Upgrade folder and cycle power. Do not delete the existing .bin firmware file. 

Changelog

Changelog from R1.4.0.6931

Added support for new capacitive touch units

Updated startup implementation to remove a momentary white screen

GTT Firmware
GTT Rev2.0 Bootloader R1.4.0.6931
165.16KiB

Description

Note: This is a bootloader upgrade only, simply copy the .bin and .raw files to your GTT Upgrade folder and cycle power. Do not delete the existing .bin firmware file. 

Changelog

Changelog from R1.3.6632

Added robustness to USB file transfers

GTT Firmware
GTT Rev2.0 Bootloader R1.3.6632
165.15KiB

Description

Note: This is a bootloader upgrade only, simply copy the .bin and .raw files to your GTT Upgrade folder and cycle power. Do not delete the existing .bin firmware file.


Changelog

Changelog from R1.2.6076 

Added alternate Keypad Mass Storage jumper option for GTT70A
Application Notes

File Name
Revision
Size
&nbsp
File Name
Revision
Size
Application Notes
eGTT50-TPR Drawing (Rev 1.0).pdf
327.29KiB

Description

TPN: non touch, TPR: resistive touch, TPC: capacitive touch