GLT240128
240x128 Graphic LCD Touchscreen Display, Full touch screen no keypad needed! Multiple communication protocols such as Serial RS232, TTL, I2C, USB and RS422 models available.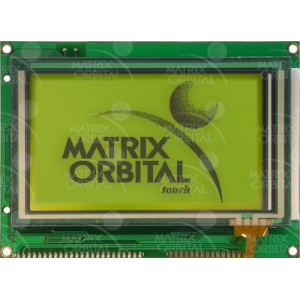 The GLT240128 is an intelligent Graphic LCD display engineered to quickly and easily add an elegant graphic HMI to any application. Multiple communication protocols such as Serial RS232, TTL, I2C, USB and RS422 communication models allow the GLT240128 Graphic LCD to be connected to a wide variety of host controllers.

Full touch screen, no keypad needed! Our Graphic LCD Touch Panel provides you with a cost-effective industrial HMI user interface solution for that great product/project you are developing. On board memory for Fonts and Bitmaps! This touch screen graphic LCD displays graphics and text in any font, style, justification and language, all with the convenience of a touch screen.
240x128 Graphic LCD HMI
Available Interfaces: Serial RS232, TTL, I2C, RS422 and USB
Resistive Touch panel
256KB of customizable fonts and bitmaps to enhance the graphical user experience
Programmable to display any language
6 General Purpose Outputs
Two available voltage options: 5V, and Industrial 9-35V (12V, 24V)
Field upgradable firmware
Piezo Buzzer to provide audio feedback
Software controlled contrast and brightness with configurable time-out setting up to 90 minutes
Built in Horizontal or Vertical bar graphs
Hardware flow control
Fast and easy development
Designed, supported and Made in CANADA
Long life cycle
Backed by Matrix Orbital's decades of research and development.
 
Please note: This unit's PCB has been replaced by the improved version (rev 4.0). The unit's physical footprint, protocols and display remain the same. However, we have made improvements to the product such as enhanced ESD protection. If you have ordered this display in the past, please contact support for further details to avoid compatibility issues.
A product change notice has been released for this display. Change effective Jan 30, 2015. Please review the PCN
Module
Family/Series
Intelligent Display
Module Width (mm)
144
Module Height (mm)
104
Screen
Display Type
Graphic LCD
Backlight Type
LED
Viewing Area Width (mm)
114
Viewing Area Height (mm)
64
Active Area Width (mm)
107.95
Active Area Height (mm)
57.55
Resolution Width (Pixels)
240
Resolution Height (Pixels)
128
Pixel Pitch Width (mm)
0.45
Pixel Pitch Height (mm)
0.45
Pixel Width (mm)
0.4
Pixel Height (mm)
0.4
Font
Multilingual
Viewing Direction
Top
Viewing Angle
60
HMI
Touchscreen
Resistive
Keypad
None
Keys
None
Haptic Feedback
None
Audio Feedback
Piezo Buzzer
GPO's
6
Advanced GPO's
None
DOW
Optional, 1
Integrated LED's
None
Graphic Memory
256kB
Electrical
Interface
RS232, TTL, I2C, RS422, USB
Command Protocol
Matrix Orbital
Controller
LPC1752
Negative Voltage
Integrated
Backlight Driver
Integrated
Minimum Voltage (Vdc)
5
Typical Voltage (Vdc)
5, 9-35
Maximum Voltage (Vdc)
35
Header
Standard
Environmental
Min. Operating Temp. (°C)
0, -20
Max. Operating Temp. (°C)
50, 60
Min. Storage Temp. (°C)
-30, -10
Max. Storage Temp. (°C)
60, 80
Documents

File Name
Revision
Size
&nbsp
File Name
Revision
Size
GLT240128 Display
Manual for PCB revision 4.0
4.0
2.91MiB

Description

Manual for PCB revision 4.0 of the GLT240128, GLT240128-422, and GLT240128-USB displays including the LPC17xx processor.

GLT240128 Display
Autocad Drawing for PCB Revision 4.0
4.0
145.24KiB

Description

Autocad .dwg style drawing of the GLT240128-25, GLT240128-25-422, and GLT240128-25-USB displays.

GLT240128 Display
Manual for PCB revision 1.1
1.1
4.61MiB

Description

Manual for PCB revision 1.1 of the GLT240128 and GLT240128-USB displays using the Atmel Atmega processor.

GLT240128 Display
Drawing for PCB revision 1.1
1.1
121.34KiB

Description

AutoCAD .dwg style drawing for PCB revision 1.1 of the GLT240128 and GLT240128-USB displays.

GLT240128
PCN 2015-10-13-01.1
229.1KiB

Description

GLX G2.1 ARM Firmware Version 8.6.2 Release

GLT240128
PCN 2014-05-23.2
229.24KiB

Description

GLX G2.1ARM Firmware Version 8.5 Release

GLT240128
PCN 2013-02-02.2
229.08KiB

Description

Firmware v8.4 for GLT240128 /-USB /-422 PCB Rev 4.0

GLT240128
PCN 2011-10-06-02.1
99.09KiB

Description

GLT G2.1ARM Firmware Version 8.3 (PCB Rev 4.0) Release

GLT240128
PCN 2011-04-06-02
99.73KiB

Description

GLT24064-XX / GLT24064-1U-XX / GLT240128-XX Firmware v8.2.0 Relase

GLT240128
PCN 2011-01-24-04
104.08KiB

Description

GLT240128 / -USB / -422 Firmware v8.1.0 Release

GLT240128
PCN 2010-10-08-04
118.92KiB

Description

GLT240128 PCB Rev 4.0 Release

GLT240128
PCN 2010-08-16-01
120.5KiB

Description

New MO VPT module

GLT240128
PCN 2009-11-19-02
102.49KiB

Description

-GW Model to change to -FGW