MOS-AV162A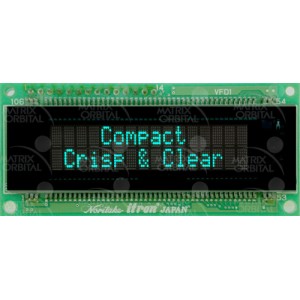 The MOU-AV162A is an economy 16x2 intelligent Serial VFD display. Engineered to quickly and easily add a powerful HMI to any application. VFD Displays offer exception performance in extreme temperatures, keeping their quick response times, high (170 degree) viewing angle and long life.

Our Intelligent Character Serial VFD displays provides you with a cost-effective industrial HMI user interface solution for that great product/project you are developing. This Serial VFD displays features optional on-board medium digits, bar graphs and 3 GPOs will allow fast development for any application.

16x2 Intelligent Serial VFD
1U form-factor
Available Interfaces: Serial RS232 and TTL
Communication speed of 9600 and 19.2k hardware selectable

5V voltage
3 General Purpose Outputs
Software controlled contrast and brightness with configurable time-out setting up to 90 minutes
Built in Horizontal or Vertical bar graphs
Temperature of -20C to 70C
Optional VFD Filters for high contract available

Fast and easy development
Designed, supported and Made in CANADA
Long life cycle
Customer headers available, please contact us
Semi-custom designs available
Long life production
Backed my Matrix Orbital's decades of research and development
The MOI I2C LCD/VFD/OLED display is a perfect pairing for an Arduino, allowing easy and fast development with a display.
Module
Family/Series
Economy Display
Module Width (mm)
80
Module Height (mm)
36
Screen
Display Type
Character VFD
Viewing Area Width (mm)
76
Viewing Area Height (mm)
23
Active Area Width (mm)
51.4
Active Area Height (mm)
11.4
Resolution Width (Pixels)
80
Resolution Height (Pixels)
16
Pixel Pitch Width (mm)
0.479
Pixel Pitch Height (mm)
0.697
Pixel Width (mm)
0.359
Pixel Height (mm)
0.577
Character Columns
16
Character Rows
2
Character Pitch Width (mm)
3.275
Character Pitch Height (mm)
5.991
Character Width (mm)
2.275
Character Height (mm)
4.759
Font
Japanese
Viewing Direction
Any
Viewing Angle
170
HMI
Touchscreen
None
Keypad
None
Keys
None
Haptic Feedback
None
Audio Feedback
None
GPO's
3
Advanced GPO's
None
DOW
None
Integrated LED's
None
Electrical
Interface
RS232, TTL
Command Protocol
Matrix Orbital
Controller
ATMega8535
Minimum Voltage (Vdc)
5
Typical Voltage (Vdc)
5
Maximum Voltage (Vdc)
5
Header
Standard
Environmental
Min. Operating Temp. (°C)
-20
Max. Operating Temp. (°C)
70
Min. Storage Temp. (°C)
-40
Max. Storage Temp. (°C)
85
Downloads

File Name
Revision
Size
&nbsp
File Name
Revision
Size
Alphanumeric Software
uProject
1.42MiB

Description

uProject is an advanced testing software for Matrix Orbital displays. It allows testing of nearly all the features and allows test scripting and many other advanced features.

uProject (micro Project) is a series of different tools that should allow the testing of nearly all the features of most of our displays. uProject also features

scripting abilities to speed up testing or changing of a specific feature, such as backlight brightness or contrast.

 

All LK/VK/PK, MOS, MX and LCD/VFD series.

Alphanumeric Software
Display Tuner
407KiB

Description

This basic application allows you to test and set LCD Contrast, Brightness, VFD Brightness, set baudrate and send text to the display.

Compatible Displays:

All LK/VK/PK, MOS, MX and LCD/VFD series.

Alphanumeric Software
Custom Character Tool
451.61KiB

Description

This simple program to give you hex values for custom characters.

This program allows you to see the hex values per lines for custom characters making implication easier. Simply download the program, uncompress and run. You will require Microsoft .NET Framework Version 1.1, it can be downloaded from here.


This application was written by Ray of LCD Studio. (Ray@lcdstudio.com)

For technical discussions and questions, please visit our forums

Alphanumeric Software
Boot Logo
40.03KiB

Description

Boot Logo is designed for modification of the startup screen for some alphanumeric displays with startup screens.

The user has the ability to use the normal text from the display\'s font table, and the 8 custom characters.

Compatible Displays:

LK/VK/PK162-12
LK/VK/PK202-25
LK/VK/PK202-24-USB
LK/VK204-24-USB

MOS-AL/AV/AP202
MOS-AL/AV204

All MX series

This application was written by Ray of LCD Studio. (Ray@lcdstudio.com)

Alphanumeric Software
Boot Edit
524.62KiB

Description

Boot Edit is designed for modification of advanced features of the LK/VK/PK USB and MX series. This is a more advanced version of the Boot Logo software.

Boot Edit allows the setting of these features:

Custom startup screen using custom characters
Power on GPO and FAN settings, such as speed, and frequency
LCD Contrast, backlight brightness and VFD brightness

Compatible Displays:

LK/VK/PK202-25
LK/VK/PK202-24-USB
LK/VK204-24-USB
MOS-AL/AV/AP202
MOS-AL/AV204
All MX series

Only the MX and USB series support the Edit GPO Defaults section.

This application was written by Ray of LCD Studio. (Ray@lcdstudio.com)