MOP-TFT480272-43A
4.3" TFT 480x272 24bit RGB Resistive|Capacitive Touch Screen
Canada Day Holiday Notice
Matrix Orbital will be closed from July 1st to July 5th, 2020 for Canada Day celebrations.
No shipping or processing of orders will take place during this time.
Normal business will resume on Monday July 6th, 2020.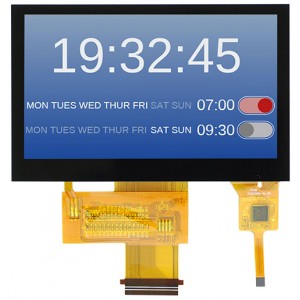 The MOP-TFT480272-43A is 480x272 pixel, 4.3" TFT 24bit RGB interface TFT. This low cost display solution utilizes an industry standard RGB communication interface for simple integration into a wide variety of new and existing applications. The Light Emitting Diode backlight with PWM controlled brightness allows the MOP Thin Film Transistor line to offer a professional display solution for any project.
Non Touch, Restive Touch and Capacitive Touch
Fast and easy development
2U TFT

Designed in CANADA
Long life cycle
Backed by Matrix Orbital's decades of research and development
Module
Family/Series
Parallel Display
Module Width (mm)
105.4
Module Height (mm)
67.1
Screen
Display Type
TFT - Color
Backlight Type
LED
Viewing Area Width (mm)
98.7
Viewing Area Height (mm)
57.5
Active Area Width (mm)
95.04
Active Area Height (mm)
53.86
Resolution Width (Pixels)
480
Resolution Height (Pixels)
272
Pixel Pitch Width (mm)
0.198
Pixel Pitch Height (mm)
0.198
Font
Multilingual
Viewing Direction
Bottom, Top
Viewing Angle
140
HMI
Touchscreen
Resistive, Capacitive, None
Keypad
None
Keys
None
Haptic Feedback
None
Audio Feedback
None
GPO's
None
Advanced GPO's
None
DOW
None
Integrated LED's
None
Hardness
3H (Res), 6H (Cap)
Electrical
Interface
Parallel
Command Protocol
Display Driver
Controller
HX8264+HX8664
Negative Voltage
None
Backlight Driver
None
Minimum Voltage (Vdc)
3.3
Typical Voltage (Vdc)
3.3
Maximum Voltage (Vdc)
3.3
Header
None
Environmental
Min. Operating Temp. (°C)
-20
Max. Operating Temp. (°C)
70
Min. Storage Temp. (°C)
-30
Max. Storage Temp. (°C)
80