HTT101G-IPS
10.1 inch 1280x800 IPS Graphic TFT Display inch plug and play HDMI HMI Capacitive Touchscreen display that features a full color automatic resolution detection , 24bit DVI/HDMI interface and upgradable touch driver firmware.
Canada Day Holiday Notice
Matrix Orbital will be closed from July 1st to July 5th, 2020 for Canada Day celebrations.
No shipping or processing of orders will take place during this time.
Normal business will resume on Monday July 6th, 2020.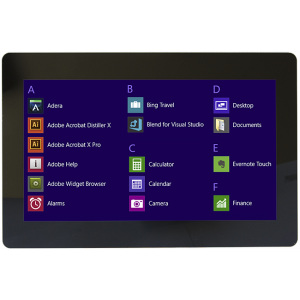 The HTT101G is a 10.1" inch Industrial Embedded plug and play HDMI HMI TFT display that features a full color 1280x800 10.1" HDMI TFT, automatic resolution detection and a 24bit DVI/HDMI interface. The oversized, mountable, capacitive, module is compatible with a wide range of systems including: Raspberry Pi, Windows, Linux, iMX and BeagleBone. From the hobbyist to the high volume industrial application, the HTT Series was designed to satisfy a wide range of customer application requirements.


Additional Features Include:
10.1 inch 1280x800 IPS Graphic TFT Display

Upgradable touch driver firmware
Sunlight readable IPS TFT, 900 cd/m2

USB for touchscreen
Automatic HDMI EDID

Multi-touch Capacitive touch screen
Multi-touch Digitizer HID

Horizontal or Vertical headers for easy Panel Mounting
5V - 15V Industrial Power Input
Operating Temp: -20 to +70C
Low profile 3M mounting holes
Semi-Custom designs available
Notice : Part number revision, previous part number HTT101G to revised part number HTT101G-IPS
Module
Family/Series
HTT
Module Width (mm)
258.0
Module Height (mm)
168.0
Screen
Display Type
TFT - Color
Backlight Type
LED, 950 cd/m2
Diagonal Screen Size (in)
7
Active Area Width (mm)
217.0
Active Area Height (mm)
135.6
Resolution Width (Pixels)
1280
Resolution Height (Pixels)
800
Pixel Pitch Width (mm)
0.17
Pixel Pitch Height (mm)
0.17
Font
Multilingual
Viewing Direction
All
Viewing Angle
Free
HMI
Touchscreen
Capacitive USB
Keypad
None
Keys
None
Haptic Feedback
Yes
Audio Feedback
Piezo
GPO's
None
Advanced GPO's
None
DOW
None
Integrated LED's
None
Hardness
6H Capacitive
Electrical
Interface
HDMI
Command Protocol
HDMI
Controller
TFP401A+LPC11U23
Backlight Driver
Integrated, Software PWM Brightness
Minimum Voltage (Vdc)
4.75
Typical Voltage (Vdc)
5, 9-15
Maximum Voltage (Vdc)
15
Header
Horizontal, Vertical
Environmental
Min. Operating Temp. (°C)
-20
Max. Operating Temp. (°C)
70
Min. Storage Temp. (°C)
-30
Max. Storage Temp. (°C)
80
Documents

File Name
Revision
Size
&nbsp
File Name
Revision
Size
HTT Guides
Quick Start Guide for HTT Series
1.2
1.03MiB

Description

The Quick Start Guide for all of the HTT Series of Displays.


HTT Guides
HTT Utility Guide (Rev 1.0).pdf
1.0
1.01MiB

Description

Guide to using the HTT Utility program to control your HTT. 

Released on January 28, 2019


Notes

HTT Support utility




A quick and easy utility to change the touch screen settings on Matrix Orbitals HTT HDMI TFT LCD range of products.




Settings:




Screen Rotation: 0, 90, 180, 270
Touch Panel sensitivity: Normal, High, Extra (thickness is dependent of display)

These commands require PCB 2.0+ of any HTT display

Backlight Brightness: 0-255
Haptic Feedback: Duration, ms
Piezo: Duration, ms
Touch Feedback: 0 none, 1 Haptic, 2 Piezo, 3 Haptic & Piezo
Backlight Auto Dim: dim from last touch, seconds




HTT Guides
HTT Series Multi-touch Firmware Guide (Rev 1.0).pdf
1.0
907.31KiB

Description

Guide to installing the HTT multitouch/gesture recognition firmware on your HTT. 

Released on January 28, 2019

Notes

Once installed, the HTT touch panel will now be classified and recognized as a touch digitizer instead of an HID-compliant mouse. Operating systems will now use touch digitizer drivers, and use touch screen drivers on the display. This allows gestures such as one finger scroll, pinch to zoom, and swipes to be used on the HTT.

HTT Guides
Free Support
-1B

Description

Matrix Orbital technical support forums for HDMI HTT Displays

HTT101G
3D Model for HTT101G-TPC
87.88MiB

Description

Solidworks .step style 3D Model for HTT101G-TPC


HTT101G
HTT101G-TPC.PDF
1.12MiB

Description

PDF Drawing for the HTT101G-TPC: Capacitive Touch

Downloads

File Name
Revision
Size
&nbsp
File Name
Revision
Size
HTT Utility
HTT Utility Source Code for Linux
-1B

Description

A quick and easy utility to change the touch screen settings on Matrix Orbitals HTT HDMI TFT LCD range of products.




HTT Utility
HTT Utility for Windows R2.0.11141.zip
2.0.11141
80.22KiB

Description

Required: HTT muti-touch firmware >= R2.0.10589




These commands require PCB 2.0+ of any HTT display


Backlight Brightness: 0-255
Haptic Feedback: Duration, ms
Piezo: Duration, ms
Touch Feedback: 0 none, 1 Haptic, 2 Piezo, 3 Haptic & Piezo
Backlight Auto Dim: dim from last touch, seconds




Released on May 5, 2020

HTT Utility
HTT Utility for Windows R2.0.10588.zip
2.0.10588
52.82KiB

Description

Required: HTT muti-touch firmware >= R2.0.10589




Settings:

Screen Rotation: 0, 90, 180, 270
Touch Panel sensitivity: Normal, High, Extra (thickness is dependent of display)

Released on January 8, 2019


Notes