MOI-AV204A
20x4 intelligent VFD Display HMI with I2C, 5V Power, 3 General Purpose Outputs, Industrial Temperature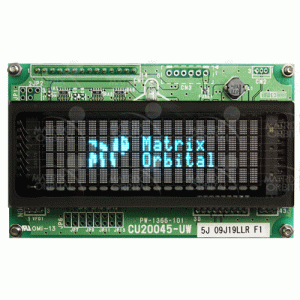 The MOI-AV204A is an economy 20x4 intelligent I2C VFD display. Engineered to quickly and easily add a powerful HMI to any application. VFD Displays offer exception performance in extreme temperatures, keeping their quick response times, high (170 degree) viewing angle and long life.

Our Intelligent Character I2C VFD displays provides you with a cost-effective industrial HMI user interface solution for that great product/project you are developing. This I2C VFD displays features optional on-board medium digits, bar graphs and 3 GPOs will allow fast development for any application.

20x4 Intelligent I2C VFD display
Available Interfaces: I2C
Communication speed of 100Kbps
5V voltage
3 General Purpose Outputs
Built in Horizontal or Vertical bar graphs
Temperature of -20C to 70C
Optional VFD Filters for high contract available

Fast and easy development
Designed, supported and Made in CANADA
Long life cycle
Semi-custom designs available
Backed by Matrix Orbital's decades of research and development
The MOI I2C LCD/VFD/OLED display is a perfect pairing for an Arduino, allowing easy and fast development with a display.
Documents

File Name
Revision
Size
&nbsp
File Name
Revision
Size
Economy Series
X-Board Hardware Manual
1.0
636.75KiB
Economy Series
Economy Series Manual
1.0
1.63MiB

Description

Hardware manual for MOI, MOS, and MOU series displays.